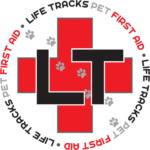 Life Tracks Pet First Aid Training welcomes you to our website!
Here are just a few comments about our course from previous participants and now First Responders:
This course is very informative, I learned so much! It was delivered at a perfect pace and the Instructor Elizabeth, gets 5 stars for her teaching skills. I highly recommend this course! T. Duce, Red Deer, AB.
Including the Instructors dogs into the course, Hays & Merlot made it much more personal and they were amazing! This course is something I should have taken long ago, so informative! S. Kile, Airdrie AB.
Definitely a fantastic course for new puppy/dog and cat owners. You just never know when an accident or medical emergency can creep up! D. Wenn, Calgary, AB.