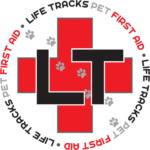 Welcome to Life Tracks Pet First Aid Training. We have added some information regarding course changes and safety due to COVID-19.
With the importance of everyone's health in mind, our Pet First Aid Training has safety practices and policies in place to ensure all of our participants are safe and comfortable during the course.
Here is our new protocol:
Class sizes have been reduced to allow the minimum 2 meter (6 foot) distance between participants. Each participant has their own personal station. These stations are fully sanitized prior to arrival.
Participant stations include these sanitized items:
Individual bottled water (take home).
Personal dog and cat stuffed (toy) animal for bandaging practical's.
First aid basket, including all the materials necessary for the course.
Walks 'N' Wags Pet First Aid manual, pocket manual and decal (take home).
Masks are mandatory at this time.
Hand sanitizer is available at stations throughout facility.
High traffic surfaces are disinfected regularly.
Please observe and adhere to all signage.
Manikins used for CPR/AR skills are fully sanitized and plastic lungs are replaced after each use.
Live dogs are welcome if registered. Please bring their leash, clean blanket or mat and water dish. Healthy doggie snacks and water are provided.
In the event you are exhibiting ANY signs of illness or are in the process of self-isolation for any reason please do not attend class. You may reschedule at a later time. If I ( your Instructor) am feeling unwell, the course will be postponed.
Walks 'N' Wags Instructor policies: http://walksnwags.com/covid-19-health-and-safety-policy/
If you have any further questions about our safety policies, please contact: https://www.lifetrackspets.com/contact
Even though we have these new safety policies in effect this course is still interactive, hands on, empowering, fun and most of all educational!
Sign up today, become a First Responder!