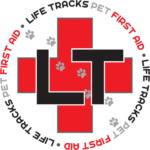 This course is designed to teach effective pet first aid for emergencies, early detection, common medical conditions and preventative care for dogs and cats. While this course is very comprehensive it does not replace regular Veterinary visits or emergency care.
TOPICS INCLUDE:
Preventative Medicine
Emergency Action Plan
Vital signs
Rescue breathing
Airway Obstruction
Shock
Wound Care
Eye/Ear Injuries
Bone/Joint Injuries
Foreign Objects
Poisonings
Safe Restraint/Transport
Parasites
Burns
Heat Stroke
Frostbite
Hypothermia
Medical Conditions and more…..
You will be taught how to administer emergency care in the "field" prior to transporting the animal for Veterinary care.
Work with live dogs (when available) or cat and dog stuffies (toys) while practicing bandaging techniques, and CasPeR manikins for CPR/AR skills.
Practice real life scenarios, play interactive games, and review instructional videos.
The course curriculum is approximately 8.5 hours. 10 hours in total, breaks included.
We offer two different course formats:
A one day: 9:30 am – 7:30 pm, includes breaks.
A two day: one evening 5:00 pm – 9:00 pm, and the following day 10:00 am – 4:00 pm, includes breaks.
Private courses are available for a minimum of four participants or more. For further details please contact http://www.lifetrackspets.com/contact/
Certifications are valid for three years.
Course fee is $160 CAD (tax included)