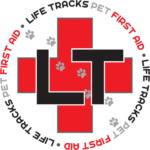 Life Tracks is based in the beautiful Foothills of Black Diamond, Alberta, Canada. Courses are available in both Calgary and the Foothills region.

Elizabeth Minor, has owned and operated Pleased Pets, makers of "Meat Muffins" for dogs, for nearly two decades. Her work in the pet industry has helped her to recognize that most pet parents and animal lovers would be unable to respond confidently, safely and skillfully in a pet emergency. Acknowledging that she was also in this category, Elizabeth decided to find out how she could become a competent responder if her own dogs met with a medical emergency.
While researching pet first aid, Elizabeth found Walks "N" Wags, an internationally recognized program with the longest running Pet First Aid courses in Canada. Originally developed in 1993 by Ethne Dickinson RN, of Oakland Educational Services and her team of Veterinary Professionals, Walks "N" Wags has been offering Pet First Aid instruction since 2003.
Elizabeth's company, Life Tracks now teaches this industry recognized National Pet First Aid program for animal lovers, pet parents, dog and cat professionals.
Professionals, eligible to receive both 5 CEU PSI (Pet Sitters International) and 8.5 CEU IAABC (International Association of Animal Behavior Consultants), with the completion of this course. Professionals choose our program for its reputation. They recognize that a certification from an accredited organization lets their clients know that they are credible professionals who can reliably care for their dogs and cats.
Pet owners choose our program knowing that they can now effectively administer First Aid in a pet emergency. They also acquire many early detection and preventive skills to draw upon while they care for their companion animals.